IPT-M180 Table Microphone
Th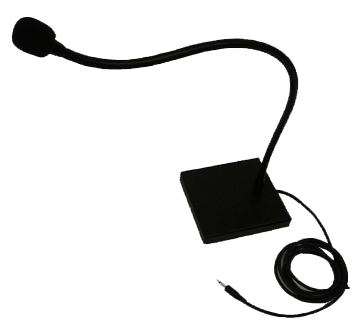 e IPT-M180 is a sleekly designed high quality unidirectional microphone for use in high activity applications, such as trade floors and dispatch centers.
The IPT-M180 offers low THD, good linearity and a flat phase response to offer excellent sound quality.
The IPT-M180 delivers high reliability and performance in an aesthetically pleasing and low profile package.  It is designed to withstand the day-to-day wear and tear placed on it by active users, regardless of the environment.

Specifications:
Base size: 4"x4"x3/4"
Gooseneck: 19"
Sensitivity: -42 +/- 3dB
Impedance: <2.2K
Frequency: 100-16,000 Hz
S/N Ratio >40dB
Connection: 1/8" (3.5mm) plug
Works with any standard sound card
Sturdy Profile at 2.2lbs (1Kg)
Stable platform
High quality, black E-coat