Cowboy Caviar
Sometimes one needs a break from VoIP communications.
Cowboy Caviar starts with a spicy base of black-eyed peas, black beans, corn, and avocado. Scoop it up with tortilla chips for an appetizer, or add cabbage and it becomes a coleslaw.
Ingredients:
1 can (15 oz.) black-eyed peas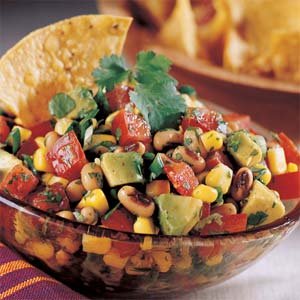 1 bag of frozen corn kernels
1 can (15 oz.) black beans
1 can (10 oz.) Rotel tomatoes with diced green chilis
1/2 red onion, chopped
1 ripe avocado, chopped into 1/2″ cubes
1 red/orange pepper, chopped
1-2 jalapenos, minced
1/3 c.  red wine vinegar
1/2 c. salad oil
3 clove garlic, minced, or generous equivalent of garlic powder
1/8 teaspoon black pepper
1/3 cup chopped fresh cilantro
1 bag (6 oz.) tortilla chips or 2 cups finely shredded cabbage.
Preparation
1. In a large bowl, mix vinegar,  oil, garlic, and peppers. Peel, pit, and cut avocado into 1/2-inch cubes. Add to vinegar mixture and mix gently to coat.
2. Drain and rinse peas and corn. Add peas, corn, beans, onions, cilantro, and Rotel to avocado; mix gently to coat. Add salt to taste. Serve mixture with chips as an appetizer, or add cabbage and mix to make a salad.
…with some help from:
http://www.myrecipes.com/recipe/cowboy-caviar